LUXURY MODERN ECO-FRIENDLY SCANDINAVIAN FARMHOUSE COTTAGE LOCATED IN GRATON/SEBASTOPOL IN THE HEART OF WINE COUNTRY, WEST County, SONOMA, CALIFORNIA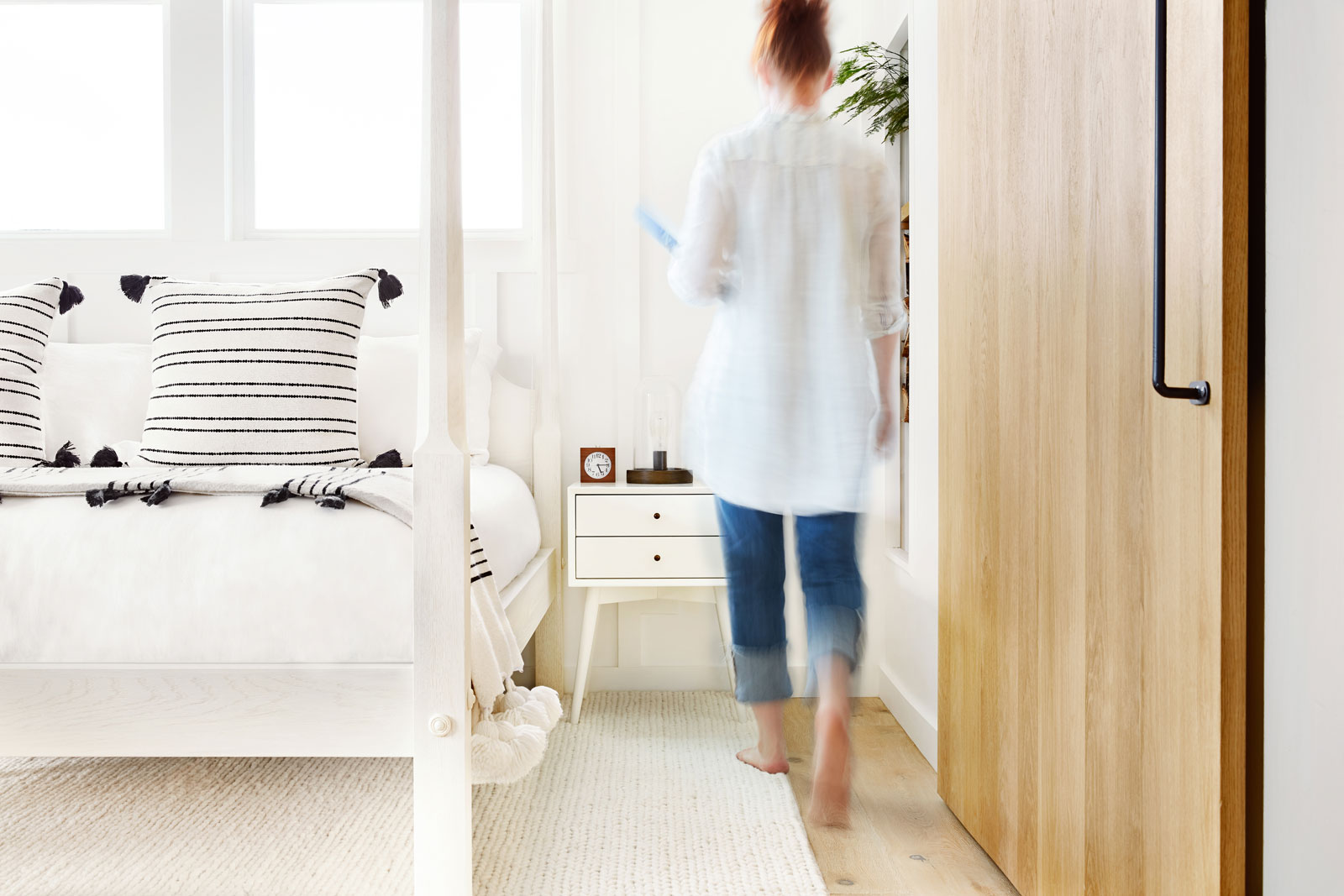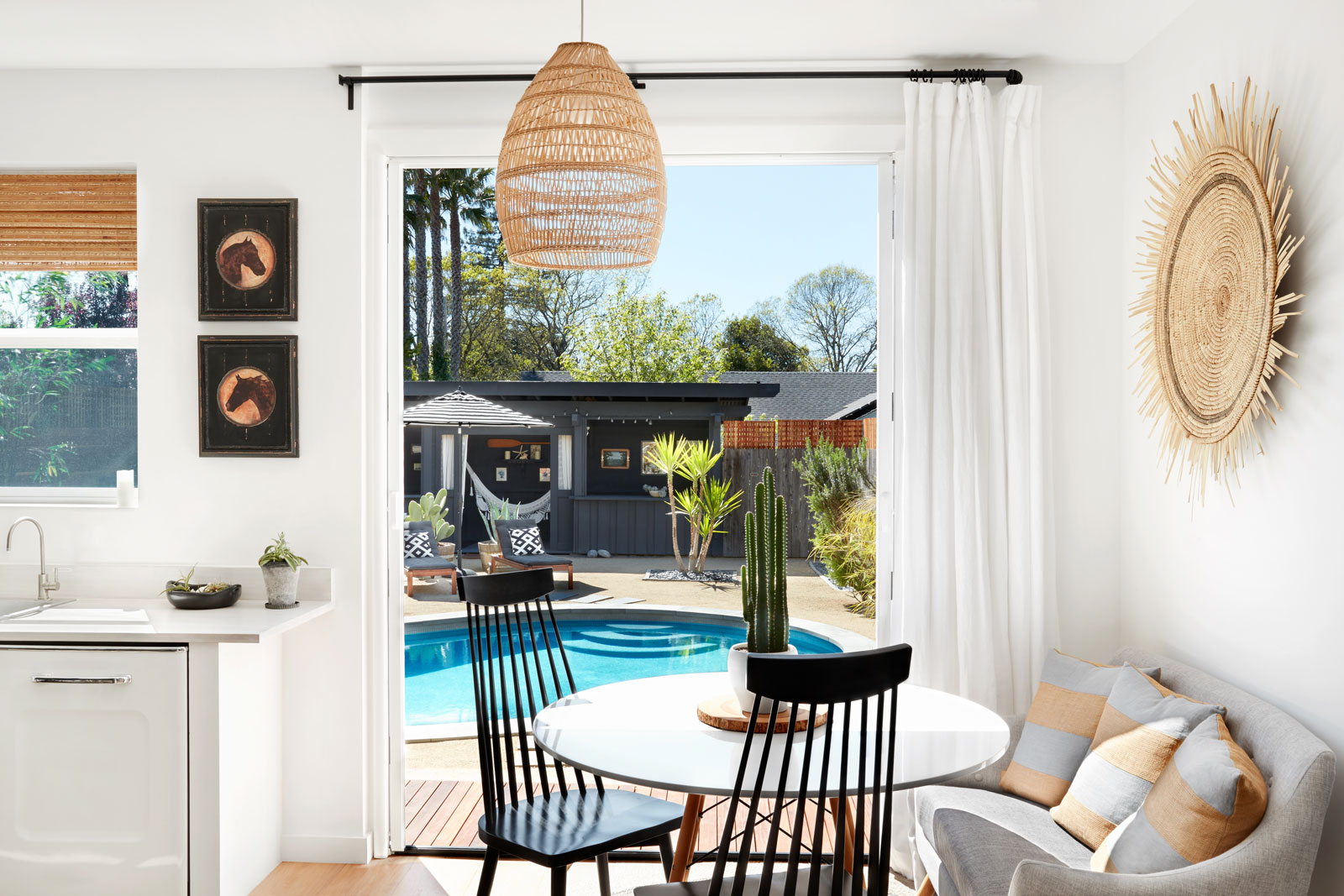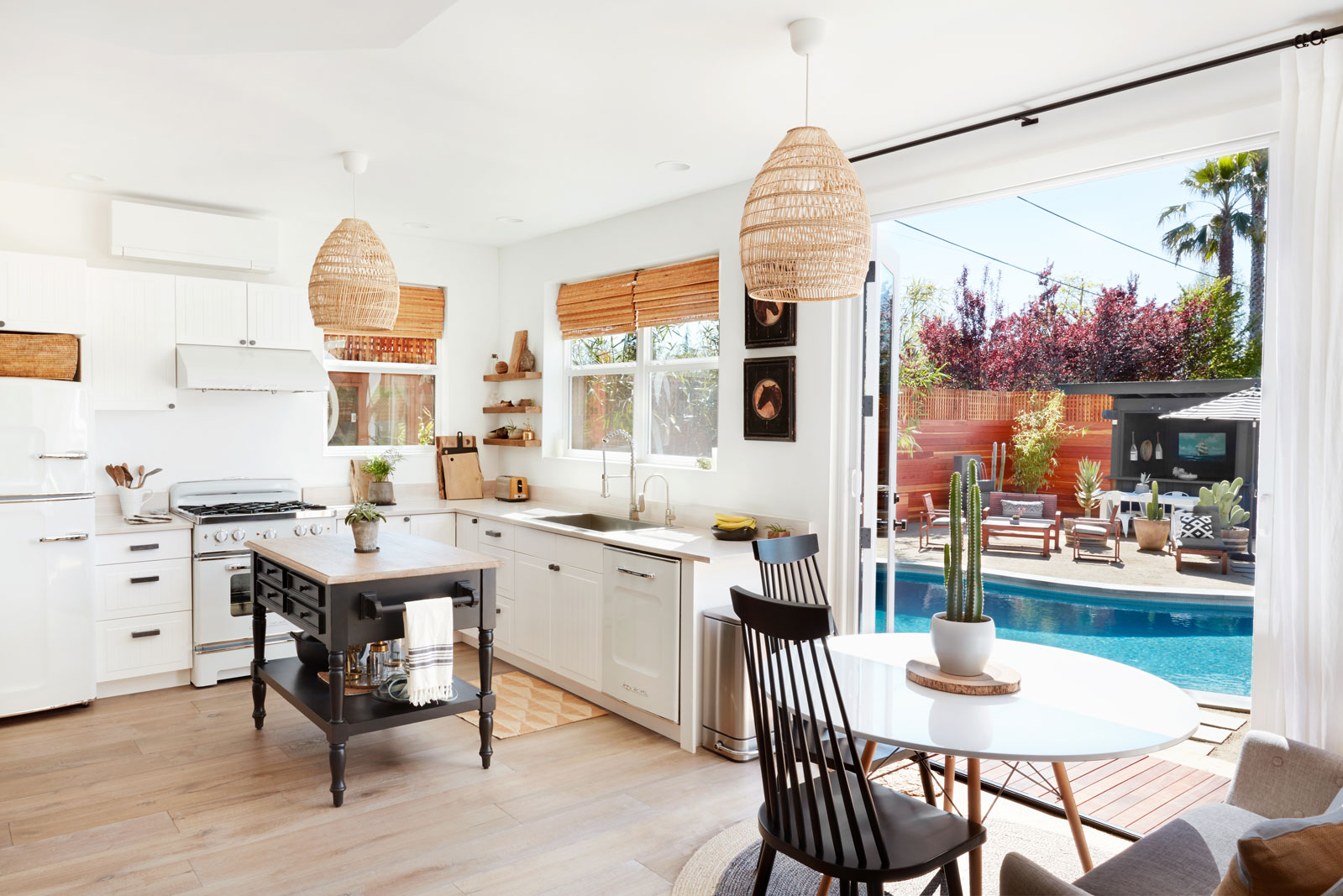 The Heart of Wine Country
Welcome to our luxury vacation rental Modern design farmhouse cottage located in the heart of West Sonoma Wine Country, California. DEsigned to feel like a luxury BOUTIQUE hotel
Luxury Eco-Friendly 1 Bedroom, 2 bathrooms 900 sq ft stand alone cottage decorated in a Scandinavian Modern Design Farmhouse style.

Private Solar Heated Swimming Pool with Sunbrella Pool Floats in Private Backyard (Pool is not heated in the winter, solar heat only works May to Early October)

Italian designed Clearlight Full Spectrum Far Infrared ultra low emf outdoor 4 person sauna

New Air Conditioning throughout, ceiling fan in bedroom, extra fan in closet if needed

New King Size Luxury Eco-Friendly Non Toxic Memory Foam Mattress from Saatva in master bedroom with white Canopy Bed from Serena and Lily

Pillow Bar Menu - Luxury Hotel Collection King Size Pillows from Northern Feather Canada on the bed. Multiple other pillow options available in closet: Feather and Down Pillows, King Size Shredded Latex Pillows, Contoured Organic Latex Memory Foam Pillows from Three Happy Coconuts and Two hypoallergenic pillows.

All natural bedding materials with 100% Belgian linen sheets, Egyptian cotton gauze blanket, Australian all natural wool comforter inside a Linen Duvet cover.

Organic bath towels

Luxurious Turkish Cotton Waffle Robes from Parachute Home

Queen size sleeper sofa in living room with upgraded memory foam mattress. (Cottage Sleeps max of 4 people total, 2 people included in reservation, $50 extra per person up to 4 people)

Eco-friendly AFM Safecoat paint used throughout

Eco-friendly cleaning and laundry products used throughout property

Austin HEPA Air Filter and White Noise Machine for bedroom if needed (kept in bedroom closet if you want to use it)

Cottage is professionally cleaned from top to bottom between each guest

Cottage is only used as a full-time vacation rental, no one lives in the cottage and no personal items are kept there

Real European oak wide plank hardwood floors throughout. Italian tile in upstairs bathroom, pebble tile in downstairs bathroom

55 inch HD 4K Smart TV in Living Room With Xfinity Cable, Netflix, Amazon, Spotify, Etc.

Complimentary organic coffee with french press, as well as an assortment Organic Tea. Cane sugar, organic honey, and organic stevia provided as well.

Kitchen is stocked with organic olive oil, organic balsamic, organic coconut oil, salt, pepper, and some basic spices.

Wifi internet throughout

Tiki Bar in backyard with hammock and lounge area

Indoor Electric Grill (We can not have an outdoor grill because of fire hazards and not enough wood clearance.)

Well behaved, quiet, trained pets considered if certain requirements are met, please see pet rules and inquire first. One of our neighbors is a pet sitter, so please inquire if you need any pet sitting services during your stay.

New washer and dryer inside cottage

Whole house water filtration system as well as additional five stage reverse osmosis drinking water filter in kitchen, filter is changed every six months.

Fully enclosed private backyard with private pool and sauna

Two off street parking spaces

Heat throughout as well as a Dimplex steam Opti-myst electric fireplace stove in living room

Countless wineries / vineyards in the area to go wine tasting. There are actually three wine tasting rooms within walking distance or 1 to 2 minute drive from the cottage and at least six within a five minute drive and Bowman Cellars is literally just down the street. (See area for more info)

Beautiful paved nature walking path right behind the cottage one block away, Joe Rodota Trail can go biking, walk the dog, or just go for a relaxing stroll. Trail goes to Forestville in one direction, and Sebastopol in the other direction.

Please see house rules below.

We are fully permitted in Sonoma County as a vacation rental and we pay all required occupancy taxes and fees to the county. TOT#2897N
Summary of Amenities
Solar Heated Swimming Pool

Air Conditioning Throughout

Wifi

55 inch HD 4K Smart TV in Living Room With Xfinity Cable, Netflix, Amazon, Spotify, Etc.

Steam Electric Fireplace (in addition to heat throughout)

Tiki Bar in backyard with Hammock

Outdoor Dining Table

Hairdryer

Iron

Humidifier

HEPA air filter available

Ceiling fan in bedroom

Fully equipped kitchen

New washer and dryer

Two off street parking spaces

Enclosed private backyard

Clawfoot tub and separate shower

Organic Local Coffee and Organic Tea provided with Organic Honey, Stevia, and Cane Sugar

Kitchen is stocked with organic olive oil, organic balsamic, organic coconut oil, salt, pepper, and some basic spices.

Well behaved pets considered

Eco Friendly products used throughout

Whole house water filtration system

Five stage reverse osmosis drinking water system

Nature biking and walking path one block from cottage

Five minute walk to downtown Graton, Five minute drive to Sebastopol
The Neighborhood
Located in the quiet and safe residential neighborhood of Graton. Graton is a small town filled with artists and environmentally minded people. We have very friendly neighbors. Some of our immediate neighbors are: metal sculpture artist, florist, pottery artist, textile artist and painter, photographer, animal activist, jewelry maker, montessori teacher, butterfly cultivator, art gallery manager, solar power business owner, shaman, backyard farmers and homesteaders, well you get the idea:)
Please note that the town of Graton is located in a rural setting, but the cottage itself is in a residential neighborhood with neighbors close by. Most of the time the neighborhood is very quiet and we live on a dead end street, but occasionally a neighbor may have a gathering during the day (extremely rare), or someone may be doing some construction or repair work on their house, kids may be playing, or someone may be doing landscaping, etc. In other words, there are direct close neighbors so if you are looking for a remote rural property that is silent with no neighbors this is not it.
Please be aware that we live in a rural area. You may hear crickets or even frogs at night. You may see squirrels jumping in trees next to the house. You may see wild turkeys, quail, deer, bats, hawks, or even an owl here and there either down on the nature trail or just walking down the street. You may see a beautiful red dragonfly drinking from the pool, ladybugs or even a spider or hummingbird on occasion in the backyard. In the spring, summer, or fall you may see some paper wasps (not aggressive unless they are attacked) or bees here and there on plants or flying around in the backyard and in the surrounding neighborhood. Leave them alone and they will leave you alone, we have never been stung the whole time we have lived here and a guest has never been stung either. If you are allergic though, you should stay elsewhere to be safe.
Please note we do have a natural pest control company come and spray the house permitter and property with natural essential oils regularly to repel insects, especially spiders, ants, wasps, and overall it works really well and does a great job. Although you may still see some ants here and there in the kitchen if food is left out. There is natural essential ant spray under the counter if you need it. Let us know if see more than a few and we can come over to try to deal with it. We regularly check for paper wasp nests in the summer and get rid of them Immediately but if you are in this west county area you may still see some flying around here and there outside in the summer. They are a part of the natural environment here and serve a purpose, everyone we know in the area has some on their property and we have to learn to coexist with them to some extent in this natural environment. We hardly even notice them anymore, although we do go to great lengths to do everything we can to control them on our property but obviously we can never be totally in control of nature. You may see fake paper mache nests as a wasp deterrent or you may smell some slight peppermint or clove oil in an essential oil diffuser outside as a deterrent as well. If you are someone that needs a 100% controlled environment without any of these "nature" elements, then please find a different property that is more suitable to your needs. Also, please remember to look up and enjoy the stars at night, they are bigger and brighter here!
The cottage is located in the heart of it all. Countless wineries / vineyards in the area to go wine tasting. Five minute walk to downtown Graton restaurants such as The Underwood, and Willowood. Five minute walk to the fabulous Bowman Cellars Wine Tasting Room which is three blocks away. Red Car and Dutton and many other great wineries are a quick five minute drive from the cottage.
Five minute drive to the Barlow and the town of Sebastopol. Five minutes to Forestville. Ten minutes to Occidental. Fifteen minute drive to Guerneville. Ten minutes to Russian River. 20 minute drive to the beach (Bodega Bay) 25 minutes to Healdsburg (take the back way, very pretty drive).
Location and Distance to Local Attractions
Located in the heart of it all with easy access to all the San Francisco Bay Area has to offer.
5 minute walk to downtown Graton restaurants such as The Underwood, and Willowood

5 minute drive to the Barlow and the town of Sebastopol

5 minute drive to Forestville

10 minute drive to Occidental

15 minute drive to Guernville

10 minute drive to the Russian River

20 minute drive to the beach (Bodega Bay)

20 minute drive to Santa Rosa

25 minute drive to the town of Healdsburg (consider going the back scenic way)

30 minute drive to the famous and beautiful vineyards and wineries of Dry Creek Valley

40 minute drive to Calistoga

40 minute drive to Glen Ellen

55 minute drive to the town of Sonoma

1 hour and ten minutes to the town of Napa

1 hour and ten minutes to San Francisco
Summary of House Rules
We request that if you want to book our place, to please read these house rules below carefully and follow them during your stay. We find that being clear up front creates a harmonious and positive experience for our guests and for us as hosts. We have poured a lot of our passion and resources into creating the Farmhouse Oasis and it brings us great pleasure to provide our guests with an amazing experience while staying here. These guidelines allow us to joyfully continue offering our home as a vacation rental to our wonderful guests.
You have your own private backyard complete with swimming pool, tiki bar and sauna. This is a great place to stay if you want a luxurious relaxing vacation however, keep in mind this is not a party house. Please note if you want to be able to be really loud and yell and party in the backyard without any regard for the noise volume of your group, this property is not a fit for that as we need to be respectful of our wonderful neighbors. We like to be clear about this up front so there are no misunderstandings later during your stay. Lounging, relaxing, laughing and talking by the pool in a normal voice is totally welcomed. Quiet hours are 10 pm to 7 am.

Please do not play music in the backyard, and if our neighbors can hear your music playing from inside the house, then it is too loud. There is a county wide ordinance that there can be no amplified music (including boom boxes and speakers on phones) outdoors at any vacation rentals in Sonoma.

Adults only please

Please always use the hideaway screen doors when leaving the french doors downstairs that go out to the pool open, otherwise, a lot of flying insects will get into the house and are difficult and time consuming to catch afterwards and they may bother you during your stay as well if they are indoors (mosquitos, flies, wasps, etc). There are hooks on the back of the doors at the bottom to prop both of them open and attach to the house.

When you get up in the morning, please open the curtains upstairs. We have real plants in the bedroom that need light for at least part of the day. (Sometimes people stay for a week and have the curtains pulled the whole time and our plants all start to struggle.)

Please no candles or flames on the property. Electric candles are provided.

Some people are sensitive to strong perfumes so please refrain from using synthetic perfumes or cologne during your stay, unless they are all natural or made from essential oils - we love that stuff! We try to keep the property comfortable for people who are sensitive to strong perfumes and synthetic scents.

We have a strict 4 person maximum due to the size of the house. Reservation is for 2 people, 2 additional guests can be added for $50 per person per night up to a max of 4 people. If you want to have a guest or two over during the day for a visit, please text us and check in with us about it and let us know how many people, etc. Please be honest and do not try to sneak extra guests or pets into our home without asking us ahead of time. If you are bringing a pet please tell us at the time of your reservation.

Please do not wear shoes on the white sofas or the bed. We are messy eaters ourselves, so if you want to eat on the sofas, please feel free, but please cover the sofas with the linen sofa covers first.

Please use only the black wash cloths provided to remove make-up, please do not use the white towels for make-up removal or to wipe up spills. There are "work" towels in the laundry closet on top of the washing machine, feel free to get those as dirty and stained as you wish.

No Smoking anywhere on the property or in front of property or backyard. Many of our neighbors are sensitive to cigarette smoke so if you wish to smoke please do so off property. Cannabis is ok in the backyard.

We do allow commercial photo and video shoots, but only if they are specifically approved, and we do not do this through Airbnb because of insurance, so please inquire if interested and tell us about your project, otherwise, no photo or video shoots permitted.

If you are coming here for your wedding, we will consider allowing wedding parties to get ready here before a wedding, but only with special permission and we do charge an extra fee for this and certain additional rules and number of guests must be followed. Please do not use instant book if you are interested in this, please email us first to discuss to make sure this is a fit.

Please notify us if something gets broken even if it is something small, so we know to replace it and please let us know if something is not working properly during your stay.

We request that our guests download the Airbnb app on their phones so we can easily reach you and communicate during your stay if needed.

Guests acknowledge the following.

1. That the pool is solar heated and therefore only works when it is warm out from May to September (sometimes into October depending on the weather). The pool is operational in the winter, but it is not heated.

2. There is no outdoor grill at this property due to fire hazards. (There is an indoor grill on top of the fridge)

3. That this property is located within a neighborhood (which is normally very quiet and is on a dead end street) however, occasionally neighbors may be working on their house, someone may be doing landscaping, etc and that we as hosts can not control normal neighborhood noise that may happen during your stay.

Check in is 3:00 pm. Check out is by 11:00 am sharp. We are usually booked solid, so most of the time we can not accommodate an early check in request, However, if we can, we will be sure to let you know a day or two before your arrival when we know if there is a guest the night before your arrival or not. We are always happy to have our guests arrive early if it is possible. We also always email our guests the day of check in if the house is ready any earlier than regular check in time.
Pool Rules

• Swim at your own risk. Guests assume all liability and responsibility for use of the pool.

• For your safety, no diving in the pool

• No Glass at or around the pool area (use plastic glasses above the stove)

• No Swimming if intoxicated

• Please do not leave pool floats on the ground as the dirt will stain them and please do not drag them across the dirt/ground when taking them out of the pool.

• Please use the seagrass mat at the pool steps to wipe of the decomposed granite/gravel from your feet before entering the pool.

Pool towels are in the black cabinet in the kitchen and also in a basket in the Pool House in the summer)

Sauna Rules

• Use sauna at your own risk. Guests assumes all liability and responsibility for use of sauna.

• Do not use sauna while intoxicated.

• Drink plenty of water and do not stay in longer then 20 minutes at a time.

• Only use grey towels inside sauna while using the sauna. (do not use white towels from the bathroom) Wash on hot cycle after using or hang to dry.
Pet Policy & Rules
(you only need to review this section if you want to bring a pet with you)
We love dogs! We know ourselves how hard it is to find vacation rentals that allow pets. So we decided to allow pets for now but with some conditions. Please inquire about any pets you are interested in bringing. Well behaved, quiet, mellow, fully potty trained pets will be considered. When you email us, please tell us about your pet and confirm you have read and understand the house rules around bringing a pet with you.

If you have large rambunctious dogs, this is not the right place for you. (Large mellow dogs are fine though)

**Very Important** Please walk your dog to go potty before letting them in the backyard and do not let them use the backyard area as a bathroom. We have had issues with this and will have to stop allowing dogs if guests do not respect this house rule. There is a beautiful dog walking path one block from the cottage or you can just walk them down the street. If your dog does have an accident in the backyard, please pick it up, use nature's miracle in the laundry closet and hose it down. If we see and smell urine after your stay, we will charge an additional $100 cleaning fee. We have a small backyard and it is not an appropriate area for dogs to use as a bathroom. If you are not able to stop them from going to the bathroom in the backyard then please keep them inside. Thank you.

For your dog's safety, please do not leave your dog unattended in the backyard with the pool. Dogs who are not familiar with pools can accidentally fall into them. Please no dogs in the pool unless they are small or you can fully dry them and their paws after getting out.

Pets must be free of fleas.

We require that you cover the white sofas and bed with the provided linen covers if you bring pets because we know how our own dogs can be rough on a white sofa. As long as the sofa and bed covers are on, dogs are welcome to sit on the furniture. We automatically put on the linen covers before your arrival if you are bringing a pet.

If you want to leave your pet alone in the cottage and have done this a lot without any issues, this is ok please but please keep your cell phone on you and your airbnb messages notifications turned on so we can reach you immediately if needed. (Our neighbor is also a pet sitter, so if you need a pet sitter, ask us)

Dogs must be quiet and not be constantly barking.

If you go on a walk and it is muddy or raining, please wipe your dogs feet at the door. We will provide paw wipes for you in the hallway under the bench.

Please make sure your dog is friendly and on a leash during walks, we have a lot of other friendly dogs in the neighborhood and want to make sure everyone gets along during your stay.

If there is any damage caused by your pet, you will be required to pay for it.

We require a one time pet cleaning fee of $50 per pet per stay.

Please note: Two Indoor dog beds as well as an Outdoor dog bed are provided. Dog bowls are also provided. We usually leave out wet paw wipes under the bench in the entry hallway as well if needed.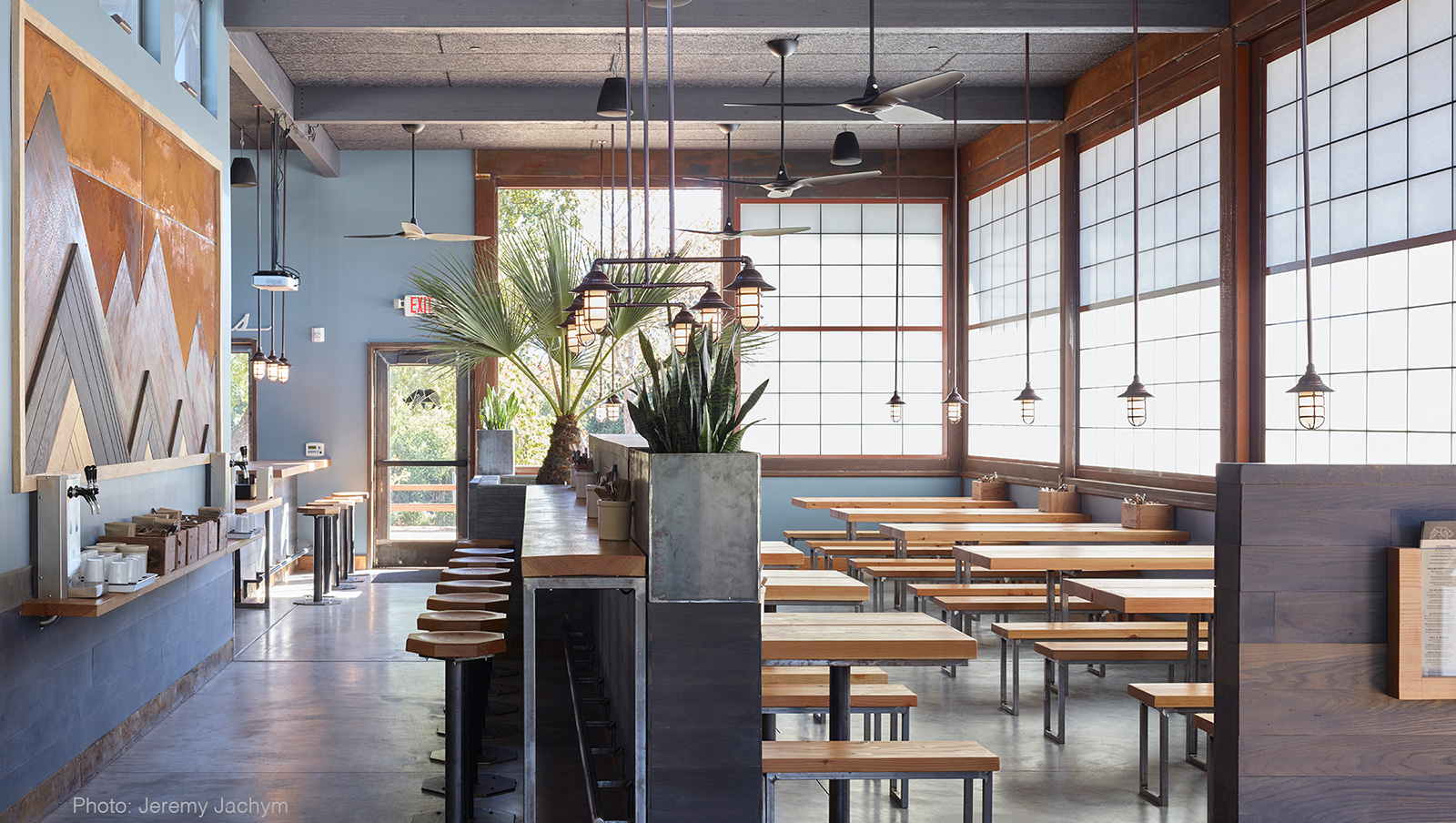 Recommended Local Restaurants and Bars :
Our top favorite local restaurants in the area:
(Disclosure, we are really into supporting organic and locally sourced food, so our favorites list reflect this preference. To see more variety of options based on location, see bigger list below this one.)
Food delivery to the cottage
DOWNTOWN GRATON: (five minute walk from cottage, turn left coming out the front door, walk a few blocks to downtown)
SEBASTOPOL: (FIVE MINUTE DRIVE)
THE BARLOW, SEBASTOPOL: (FIVE MINUTE DRIVE)
FORESTVILLE (FIVE MINUTE DRIVE)
Guerneville (15 MINUTE DRIVE)
OCCIDENTAL (10 MINUTE DRIVE)
Santa Rosa (20 Minute Drive)
Healdsburg (25 minute drive) You can take the backroads or the highway.
**If you are interested in eating organic/ non gmo, check out this non gmo restaurant guide website which talks in more detail about some of the restaurants above and what is organic and what is not.
Local Breweries
(all at the Barlow)
Local Wine Tasting
Graton/ SEBASTOPOL Area (Russian River VAlley)
*Please note that you can arrange a totally private local wine tasting experience right here at the Farmhouse Oasis with local winemakers Satyre Wines. They will come here for a charge of $30 and the fee is waived with purchase of two bottles. Appetizers can also be arranged for the private tasting at the cottage as well. Contact Sommelier Nicole to schedule a private tasting. Phone: 415-686-0171
private vip experience
If you would like a five star private custom local wine tour that makes you feel like a rock star and focuses on a customized wine tasting experience just for you, check out Randall's Wine Tours right here in Sebastopol. He is a certified Sommelier and has access to some of the most exclusive and private tasting rooms in the area. Choose to be driven in a Mercedes E350 or a Lincoln Navigator for your tour. Our previous guests highly recommend this VIP wine country experience! Tell him what wines you like and let him take care of the rest.
Tasting rooms
DRY CREEK VALLEY - HEALDSBURG
Glen Ellen
Sonoma
Napa
Spa/ Massage / Babymoons
Gym / Workout
Haircuts / Hairstyling
Grocery Shopping
Cannabis Tourism
As you may already be aware, marijuana is now legal in California, even if you are visiting from out of state or out of the country, you only need an ID and to be over 21 years old. So if you are into this sort of thing, Sebastopol just so happens to have one of the best dispensaries in the country Solful Dispensary. All of their products are grown organically and/or biodynamic and locally grown as well. This is the highest quality artisan curated cannabis experience you can get anywhere in the country. The cannabis tourism industry is just beginning there will be "tours" similar to wine tours that will be created in the next couple of years. The Sonoma County Experience is a wine, craft beer, and cannabis tour company if you are interested. Word of warning, if you are new to this go VERY slow, and would not suggest using edibles or oils. Go slow. There are lots of stories about people ruining their vacation because they overdo it and get carried away, don't be one of them.
General Shopping
General Activities
Beach Access
Coming Soon..
Piazza Hospitality is in the process of building a beautiful luxury, design centric, sustainable LEED certified boutique hotel, spa, restaurant, and shops in downtown Sebastopol. It will be called Hotel Sebastopol and will be located at the current vacant lot between the Barlow and downtown. We are looking forward to this beautifully designed property by San Francisco architect David Baker coming to our community. The hotel will have an area for local artists and makers, as well as open community spaces. Click on the link to see renderings. Piazza Hospitality also owns Hotel Healdsburg and H2 Hotel in Healdsburg.
*Please let us know if you find great local experiences in the area so we can add them to our list!
Trinette + Chris have been professional advertising photographers for over 20 years. They also do fine art photography and some of their fine art images can be seen inside the cottage. They have a converted Sprinter camper van and enjoy traveling and exploring in it and exploring new places.. Their commercial photography work has taken them to some of the most luxurious five star hotels and resorts in the world. They regularly shoot for local luxury hotels and resorts such as Auberge Du Soleil, Solage Resort and Spa, and Carneros Resort and Spa.
They have taken what they have learned in their travels to some of the world's most luxurious hotels and resorts to create a unique luxurious experience for their guests. They are passionate about design and architecture and have high standards when it comes to accommodations. They care about the details and truly value customer service, and are always a text away if there is anything they can do to enhance their guest's experience.
Contact
Trinette + Chris
Phone: 415-786-8810